The red sandy beach of Xi, in the peninsula of Paliki-Lixouri, Kefalonia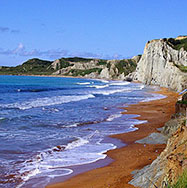 The island of Kefalonia, with its 237 km long coastline, boasts 39 beautiful of sandy, pebble or gravel beaches. Undoubtedly the best beaches of Kefalonia are scattered along the southern coast of the island.



Makris Gialos and Platis Gialos: South of Argostoli, on the way to the airport, there is a series of supermarkets, taverns and accommodation: you are in Lassi, the main tourist center of the island. In front of it there are two excellent beaches: the sandy beach of Makris Gialos, about 300 meters long, and 10-30 meters wide. Crowded in July and August, it is very well organized with plenty of sun loungers and umbrellas, beach bars and a large offer of water sports.
The sandy beach of Platis Gialos, 100 meters long and 20 wide, is framed by pine trees.
Imposing is the adjoining coastal strip called Tourkopodero ("foot turkish") which is only accessible from the White Rocks hotel. Umbrellas, deck chairs, a small bar that offers snacks, changing rooms, toilets and showers. Locals love to play beachvolley, but there is no offer of water sports.



Xi Beach: From Lixouri pass through the village of Mantzavinata, and you'll fin signposts to the beach. Xi beach is a sandy red beach about 3 km long and 10-20 meters large. The clay of the surrounding cliffs, from 20 to 30 meters high, is used by the Greeks for face masks. The beach slopes down gently and is thus also suitable for children. Up to Koounopetra other sandy beaches line the southern coast.



Vatsa Beach: Continuing from Mantzavinata towards Akrotiri and then towards Vatsa, you arrive to this moon shape sandy beach, about 200 meters long and 12 wide. Near the beach a small river flows into the sea, and it's used by fishing vessels and sport boats like a small harbor. Here you can find one of the most exotic fish tavern on the island, and where you can rent a chalet for a Robinson Crusoe style beach adventure.



Platia Ammos Beach: Once passed Havriata, driving towards the western coast, you get to a Mediterranean scrub landscape. On the horizon you'll see a high cliff with a Monastery of Kipouria on the top of it (there is just one monk). A few meters further, walking 400 steps downwards, you reach the beach of Platia Ammos. On this 600 meters long and 30 meters wide pebble beach, against the backdrop of majestic cliffs, there are no sunbeds, umbrellas or taverns within walking distance. Here the naturist tourism is particularly relevant, especially in some areas of the beach, the most far from the arrival point (sometimes the beach is almost entirely populated by nudists).



Livadi Beach: North of Lixouri, after Livadi, you pass through a small narrow beach where you find a ruined building that looks like a prison. In fact, during the military regime, from 1967 to 1974, prisoners were arrested and tortured here.



Petani Beach: In front of Livadi beach if you can turn left you can get to Petani beach, a beautiful sandy and pebble beach, about 300 meters long and 30 wide. There are sun loungers and umbrellas, beach bars and a small tavern.



Myrthos Beach: 1 km long and 100 meters wide, this beach of coarse sand, pebbles and gravel, surrounded by a high rugged coast, is not entirely without buildings. Only during the summer there are some simple wooden sheds and caravans used as "kantinas", but they are immediately removed off season. From the village of Divarata there is a well-paved winding road going downhill to the beach. The sea water here quickly becomes deep and there are also strong deep currents.
On the left side of the beach there are small caves, under which it would be better not to lie down because of the danger of falling stones moved by the pasturing goats on the top. In any case, the beach Mirthos is well organized with sun beds, umbrellas and showers.



Dafnoudi Beach: In the village of Markandonata, in front of the old church, turn left and just before the end of the road on the right side there is a sign, here begins a wonderful hike through the woods and down to the beach. Dafnoudi beach is a beautiful small pebble beach, 35 meters long and 15 m. wide. Here you'll find a crystal clear waters, and also small caves where monk seals use to nest. There are no umbrellas.



Antisamos Beach: Located 5 km north-east of Kefalonia, this 700 meters long pebble beach, with almost no buildings and surrounded by lush green areas, is one of the most famous and beautiful on the island. It's possible to get there by car and park it safely in a large parking, sufficiently far from the beach to avoid damaging the naturist beauty of the place. However, the beach is well equipped with sunbed and umbrellas, and organised with water bikes and canoes rental. Continuing along the pebble beach you come to a quiet and secluded small creek, protected by a big rock that can be easily crossed. The bay is not crowded at all and it's a small naturist heaven where you can safely practice nudism. On this beach, many scenes of the movie Captain Corelli's Mandolin were filmed.



Agios Sissios Beach: A beautiful and quiet beach, that can be reached following signposts to the monastery of Agios Sissios, shortly after the village of Skala towards Simotata. You have to park your car near the ancient ruined monastery and walk down a steep descent. The beach is about 500 meters far and it is populated exclusively by nudists.



Melissani Lake: 3km north of Sami, a bit distant from the road to Agia Efimia near the village of Karavomilos, but well-marked, you can reach this beautiful cave that creates a lake in the sea. The daylight, or sometimes just a ray of sunshine, goes through the large hole on the top of the cave and almost touches the lake surface, making it everytime different.
The cave can be visited with little boats from May to October (Mon-Sun from 09 to 19) - the entrance ticket including boat ride is 7 euros.



Porto Heli Beach: Get to the village of Svoronata and at the junction with the cemetery turn right. A stairway leads down to this black sandy beach, 150 meters long and 30 wide. At the end of the bay going west there is an imposing cove with a small sandy beach (you can even swim in it). A small restaurant, beach chairs, umbrellas, showers, canoes and pedal boats can be found here.



Avithos Beach: In Svoronata, at the cemetery, turn right. You will find this beautiful sandy beach, 1.2 km long and 10-20 meters wide. Like Ligia beach, it is a rather quiet beach suitable for families. Equipped with deck chairs, umbrellas and showers, it also offers an excellent tavern, the Avithos Preview, serving genuine local products.



Ligia Beach: To get to this wide sandy beach you have to cross the village of Svoronata towards Avithos beach, where you can park your car and continue on foot on Avithos beach southward.



Trapezaki Beach: To get here you need to arrive at Mousata where you find signposts to the beach. The left side of this beach is 200 meters long and 20 meters wide, while the right side is 3 km long and 30 meters wide. It's a beautiful sandy beach against the backdrop of a leafy grove. Across the beach you can get up to Loudra Beach. Here is a small artificial harbor, and behind the beach a nice tavern.
The beach is very crowded and full of umbrellas and sunchairs, but being a very long beach there are also free areas, suitable for those who want to practice nudism. In fact, in the middle of the two great beaches of Trapezaki and Lourdata, there is a smaller one, easily reachable on foot, much more populated by naturists.



Kaminia Beach: In the nearby village of Ratzakli, a road turns towards Kaminia, leading to this sandy beach (2 km long and 30 meters wide). It's a protected beach thanks to the presence of the Caretta Caretta sea turtles.



Koroni Beach: Follow directions to Argostoli until you reach the village of Valeriano, then continue towards Thiramona. The last part is a gravel road. Even in this beautiful sandy beach, 300 meters long and 30m wide, the clay for face masks can be easily found. In fact there is a small spring flowing thermal muds (spread it on the body and then, once dry, dive into the sea). It is organised with tavernas, beach umbrellas and sun chairs.
Moving to its southern end, where there are no umbrellas, there is a free area ideal for naturism.